Elizabeth Hannah Rader
Principal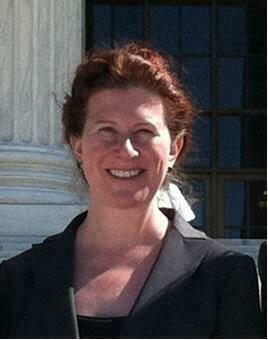 Elizabeth Hannah Rader is a graduate of Simon's Rock College, Bryn Mawr College, and the University of Minnesota Law School. She started her legal career clerking for Circuit Judge Alvin A. Schall of the U.S. Court of Appeals for the Federal Circuit. After completing that clerkship, she clerked in the Eastern District of Virginia for Judge Leonie M. Brinkema. She went on to practice in large law firms.
While at times patent litigation kept her busy, her broader practice included copyright, trademark, and trade secret cases, as well as related litigation for technology clients. From 2002-2004, Elizabeth practiced as a residential fellow in the Center for Internet and Society at Stanford Law School. In that role, she assisted the Cyberlaw Clinic director in teaching and mentoring law students and young lawyers. She also litigated groundbreaking copyright cases involving the Constitution, fair use, and the public domain.
After completing her fellowship, Elizabeth returned to private practice, where her writing skills were immediately put to good use. The primary author of a number of Federal Circuit briefs, she has argued in the U.S. Court of Appeals for the District of Columbia Circuit, the U.S. Court of Appeals for the Ninth Circuit, the U.S. Court of Appeals for the Eleventh Circuit and the California Court of Appeal. She has also written and filed amicus briefs in several Supreme Court and Court of Appeals cases, pro bono on behalf of nonprofit organizations. Throughout her career, Elizabeth has done significant pro bono work. She continues to mentor younger lawyers and to advocate for diversity and inclusion in the legal profession.
Bar admissions:
New York
District of Columbia
California
Maryland

Federal appellate court admissions:

United States Supreme Court

United States Court of Appeals for the Federal Circuit

United States Court of Appeals for the District of Columbia Circuit

United States Court of Appeals for the Ninth Circuit

United States Court of Appeals for the Eleventh Circuit